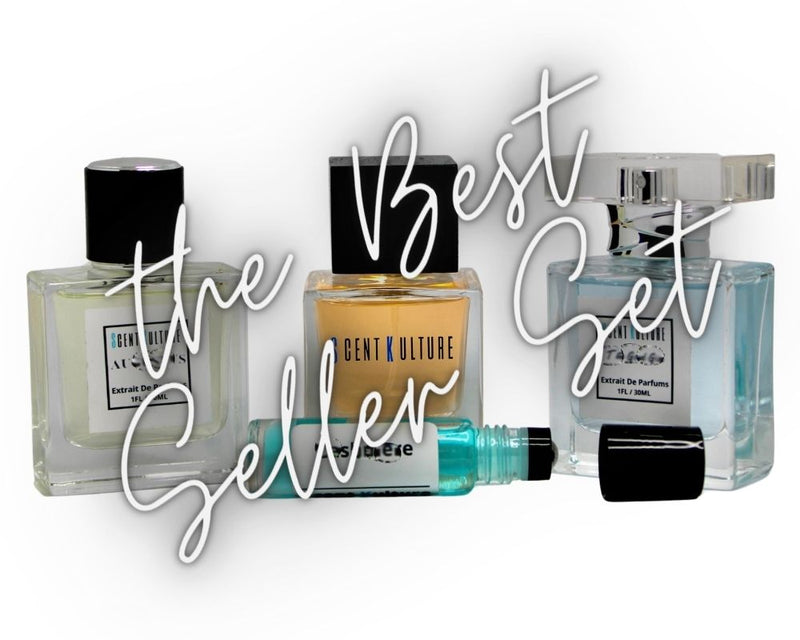 Our "Best Seller Set" includes our top 3 fragrances for women:
1) Seductress: Inspired By Baccarat Rouge 540
2) Heaven On Earth: Inspired By  Love Don't Be Shy
3) Rose Jam: Inspired by ScentKulture
Enjoy these 3 showstoppers in your favorite size (5ml, 10ml, 1oz, 30ml or 50ml) and get big savings! 
Our Roll-On products are 100% Alcohol free & lasts all day! They are glass bottles with a stainless-steel roller ball & leak proof top. You will get a significant amount each application to apply across all your favorite pulse points. Small & compact, these roll-ons are an excellent choice for people on the go!
Our NEW 30ml & 50ml high-end luxury Spray bottles consist of a very solid modern glass design. They are crimp top durable construction for leak proof usage. The atomizers produce an excellent quality, fine mist, full spray each time. The 30ML caps are solid acrylic & chrome. The 50ML caps are a unique wood construction. 
About ScentKulture:We strive to bring you only the best quality at the lowest price. Our fragrance products are of the highest quality. They are clean, skin safe, phthalate-free, animal cruelty free, vegan & proudly sourced ONLY in the USA. Our finished products are handcrafted & include the highest concentration for the longest lasting results. 
Notice:  Scent Kulture competes with the designer brands. It does not use their fragrances and is not associated in any way with the designer brands or their manufacturers. All trademarks are property of their respective owners. We are in compliance with the Federal Trade Commission's 

Statement of Policy Regarding Comparative Advertising

.